Smart Mobility
Now and the future.
Smart Mobility
Now and the future.
The new models that are shaping the mobility of the future.
Mobility is changing.  The three main influencing factors are the demographic increase in urban areas, technological development and an increasing focus on sustainability and respect for the environment
Smart mobility means a system made up of different and new forms of transport integrated with each other and with the surrounding environment. The goal is to optimise mobility flows by making them more efficient, green and safe.
Cities use sensors, data platforms and software to manage their transport infrastructures and services as a single coordinated system. This is why the concepts of smart mobility and smart cities are often interlinked.
Smart Mobility characteristics
These are the four pillars of Smart Mobility and the themes that are driving international research and debate. They are equally important in defining the present, not only taking into account specific technology changes but also economic, cultural, social and infrastructural ones that directly or indirectly involve the choices of people, companies and institutions on a global level.
Electric mobility has undoubtedly been the centre of attention for some years, in relation to a way to propel traditional vehicles such as cars and public transport, but also for having given rise to new forms of agile, personal or shared mobility (mobility-diversity). Today, a level of technological maturity has been reached, mainly linked to battery duration and reliability, that allows implementation of transport models never seen before.

When we talk about transport sector autonomy today, the first thing that comes to mind is the self driving car. When we apply this concept to the personal and family transport means that we use everyday and which, in our culture, are synonymous with the freedom to move when and where we like, then this undoubtedly seems like a new and futuristic concept. But automatic driving systems have existed for some time in the aerospace, rail and naval fields, where they are undoubtedly easier to control. Urban mobility, with its innate complexity of variables, requires extensive work to ensure its complete safety. Artificial intelligence has put itself at the service of driving, with big data and predictive models helping to optimise the flow of traffic.
Smart mobility relies on vehicles exchanging information between themselves and service providers, and cannot exist without data exchange connectivity infrastructure. This is why 5G technology is so important. Finally, the shared economy obviously also influences mobility.
We are rapidly moving from the ownership era to that of access
Owning vehicles is becoming increasingly less important in our culture, while using them intelligently and saving on purchase and maintenance costs and taxation is becoming more important.

However, the arrival of COVID-19 and the consequent pandemic forced us to look at our habits and limit the push towards shared and public mobility due to infection risks.
What are the benefits of Smart Mobility?
Smart mobility allows users to choose transport options to minimise commuting times, limit the effects of congestion and increase safety. But how can transport be optimised and what are the key benefits?
Advanced Driver Assistance Systems (ADAS) warn drivers of potential dangers and have built in safety measures. They use visual and audible warning signals to warn of objects out the driver's line of vision and can brake automatically with faster reaction times than the human brain. Smart cars, for example, can use Vehicle to Everything (V2X) technology to call an ambulance when there is an accident. Ambulances can warn other cars to leave the road, while traffic lights can change automatically to allow traffic to pass.
Benefits
Reducing traffic congestion
Self-driving or connected vehicles could communicate with each other to optimise road movement flows, limiting human errors, coordinating speed and, for example, eradicating "phantom traffic jams", when a car in dense traffic slows down even slightly, which causes the car behind that vehicle to slow even more, which has a knock on effect spreading backwards. Real-time traffic data can also recommend alternative routes or give preference to high-occupancy vehicles during peak periods.
Benefits
The economic aspect
By reducing congestion, smart mobility can save billions of dollars in fuel costs and productivity. It has been estimated that in the United States, for example, 3 billion litres of fuel are consumed every year while standing still in traffic, while the National Highway Traffic Safety Administration (NHTSA) estimates the annual cost of road accidents is $299.5 billion. Furthermore, in the case of self driving vehicles, passengers will be able to make better use of the time they save driving.
Benefits
Reducing pollution
Existing mobility systems are among the main causes of greenhouse gas emissions and air pollution in cities. Smart mobility through green technology, enhanced by a shared economy perspective, can significantly reduce emissions. The goal is to achieve zero emission transport methods.
Electric
Why does mobility have to be electric? Giving decarbonisation a push.
The European Environment Agency estimates that road transport contributes to excessively high concentrations of nitrogen dioxide (NO2) at around 70%, and particulate matter (PM) at around 30%. It is estimated that around 7% of the urban population in Europe is exposed to NO2 levels above the EU/WHO threshold value and over three quarters of the urban population is exposed to PM at levels 2.5 that of the WHO guideline values.

This is precisely why accelerating the global transition to cleaner transport systems is a priority.
In this sense, the process seems to have already begun. From the Global Automotive Outlook study presented by AlixPartners at the Automotive Forum in Milan in October 2019, it is clear to see the substantial level of investment in electric by car manufacturers. For example, diesel engines, previously found in 50% of cars and light commercial vehicles, fell sharply to 36% (2018 figure) and are set to fall to 10% in 2030.
In 2023, expenditure on the production of electric cars could reach the 200 billion dollar threshold, with over 200 models available. The "green deal" sets very challenging targets and the delay in infrastructure (Smart Grid) development together with the effects of the pandemic, could lead to a reduction in car sales volumes. Reduced or delayed OEM ability to invest, could put the achievement of the targets themselves into question.
From Anderson to Musk
A brief history of the electric car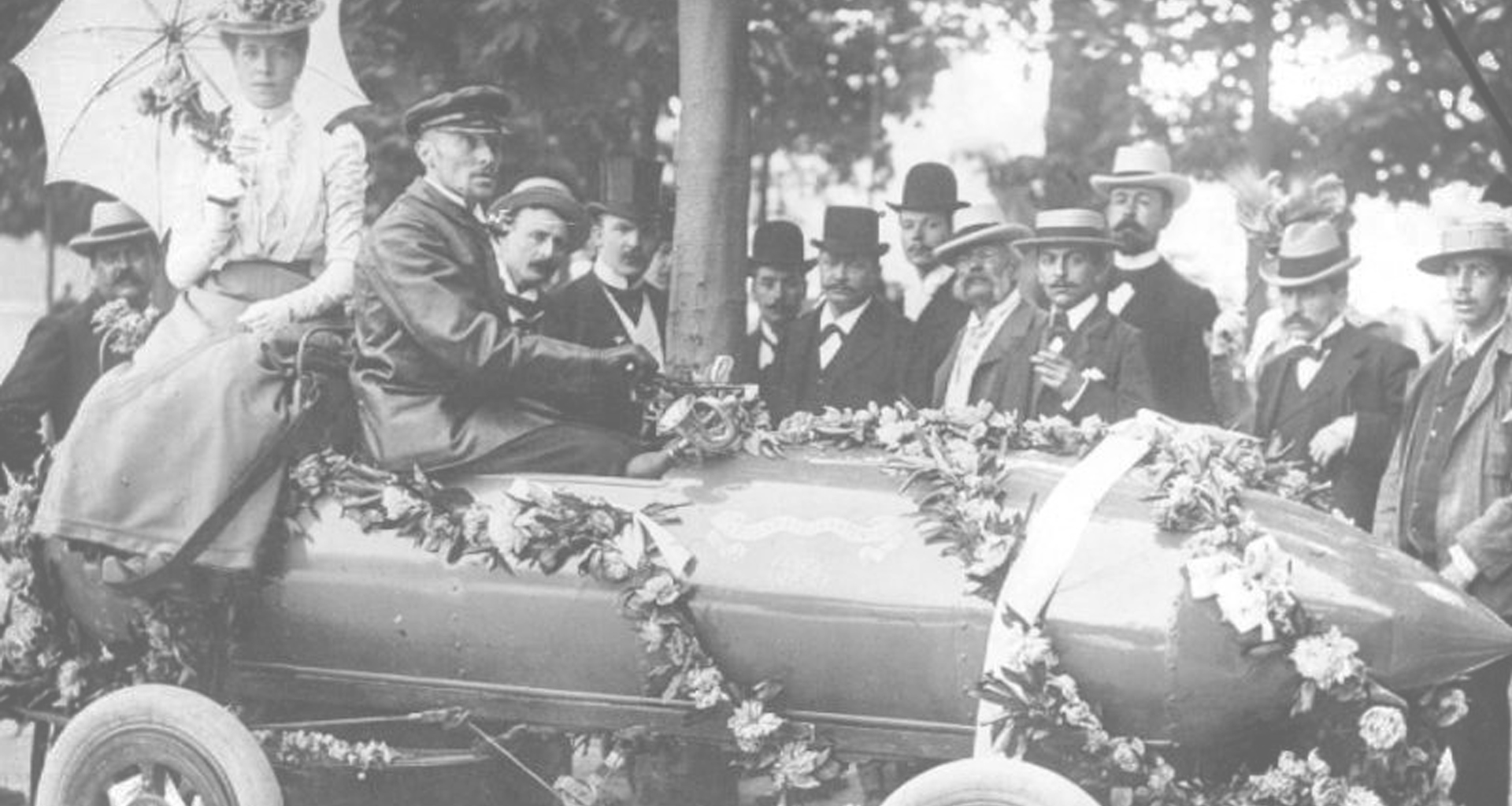 1832
Scotsman Robert Anderson invents the first battery electric vehicle (BEV)
1899
"La Jamais Contente" (The Never Satisfied) electric car breaks through the 62 mph barrier
1959
Henney Kilowatt is the first modern transistor-controlled electric car. It reached speeds of 60 mph
1974
The electric City Car is presented by Fiat at the Turin Motor Show
2008
Elon Musk launches the Tesla Roadster, a fully electric supercar
The future of electric propulsion
Interview with Francesco de Nola, Technology Leader (december 2020)
Teoresi solutions for propulsion systems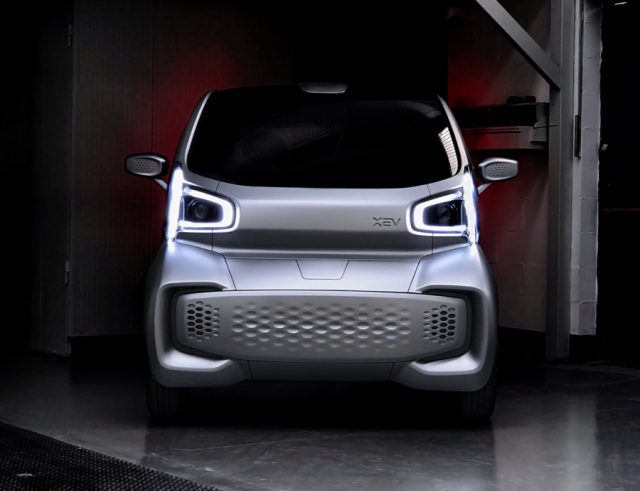 FOCUS
LSEV, the XEV e-car built with 3D printing
The XEV e-car is built with the additive manufacturing logic and its chassis is fully 3D printed. Teoresi, together with CO.MEC. S.p.A. and the family office Moschini S.p.A., is the angel investor of the Italian start-up.
Read press release
It's not about performance but its flexibility. In fact, it will be a small vehicle with sufficient autonomy and performance to be agile in urban environments, with a view to car sharing and multimodal transport
Diego Tornese
– COO of Teoresi Group
The importance of charging infrastructures
In 2023, expenditure on the production of electric cars could reach the 200 billion dollar threshold, with over 200 models available. The "green deal" sets very challenging targets and the delay in infrastructure (Smart Grid) development together with the effects of the pandemic, could lead to a reduction in car sales volumes. Reduced or delayed OEM ability to invest, could put the achievement of the targets themselves into question.
Charge Point Operators (CPO): manage, maintain and operate charging stations.
Charging position owner: owner of the physical space where the charging station is located.
Energy supplier: i.e. the electricity supplier for the charging points.
Mobility Service Provider (MSP), with which the owner of the electric vehicle has a service contract. Usually deals with building relationships with other actors by making the services transparent to users.
Autonomous
Auto-mobile, from the Greek autòs mobìlis – "moves by itself". Never before has this been more true.
Today, robotics and artificial intelligence have reached a level where what we previously only imagined in book plots and film scripts, is now possible. Intelligent cars that drive on their own from one destination to another, allowing travellers to relax and get on with other things.
As with the electric car, here too there is a long list of experiments and prototypes throughout human history aimed at turning imagination into reality. Driver assistance technologies (ADAS) are a real example and are already present in our cars. They include electronic brake assist systems, combustion engine management systems, parking sensors and those to warn us to slow down for obstacles or pedestrians.
There are 5 automation levels defined by SAE International (Society of Automotive Engineers).
The advantages and impact on markets
| | |
| --- | --- |
| Safety | Self-driving vehicles will be able to analyse the surrounding environment and predict future events. Increasing awareness of the surrounding environment will reduce human error accidents by up to 90% |
| Viability | Based on data collected from research and statistics, fully self driving vehicles will be able to identify roadblocks and traffic jams based on current traffic, reducing fuel emissions by up to 60% and travel times by up to 27%. It will also be possible to reduce human braking and restarting response time. |
| Parking | If parking was done by self driving vehicles, accuracy would increase and space could be saved. |
| Insurance | Insurance models would also need to change, not only because road accidents would be reduced but also because vehicle use mechanisms would have to be reviewed, linked more to real time use than individual driving behaviour. |
| Maintenance | As already noted in relation to electric world supply chain, maintaining a self driving vehicle will be different because it will have increasingly more hardware and software applying a predictive maintenance concept. |
| Transport | This is one of the first sectors that could be completely revolutionised, trucks and lorries not managed by drivers will be more reliable, with often unsustainable rhythms and workloads based on deliveries and not working hours. |
| Planes, trains and buses | The advent of self driving cars could also partially impact professional mobility services, being able to travel on board and avoiding journeys to stations and airports. |
| Ride-hayling and Ride-pooling | Alternative taxi services companies such as Uber and Lyft are investing in self driving cars because, by using constantly moving vehicles, they will be able to optimise travel times and space, allowing further cost savings. |
Enabling technologies
Interview with Paolo Bizzarri, Technology Development Manager of Teoresi Group (December 2020)
Teoresi's solutions for the world of autonomous driving
Safety targets 
Driving safety experts predict that, as driverless technology matures and proves itself, accidents, that are today mostly due to human error, will be significantly reduced. For example, if 90% of cars in the United States became self driving, it is estimated that 25,000 traffic fatalities could be avoided. (Source)
Anyone who has driven a car equipped with ADAS equipment can appreciate how technology can make driving safer, because proximity sensors are there to warn us of obstacles while we are distracted, or assisted braking allows us to control the car on the ice, avoiding going off the road. Yet, despite statistical data and forecasts confirming that a fully self driving car can further improve passenger safety, heated debates have emerged related to ethics and how artificial intelligence makes its choices. There is also the very important cybersecurity aspect.
Hack-proof security systems will be more important than ever before. In relation to driverless driving, confidence is emerging rapidly in developing countries while, on the other hand, there is a lot of scepticism in the west. Despite projection data on the reduction of fatal accidents with self driving cars and infrastructures, there is a fear of a lack of conscious human control.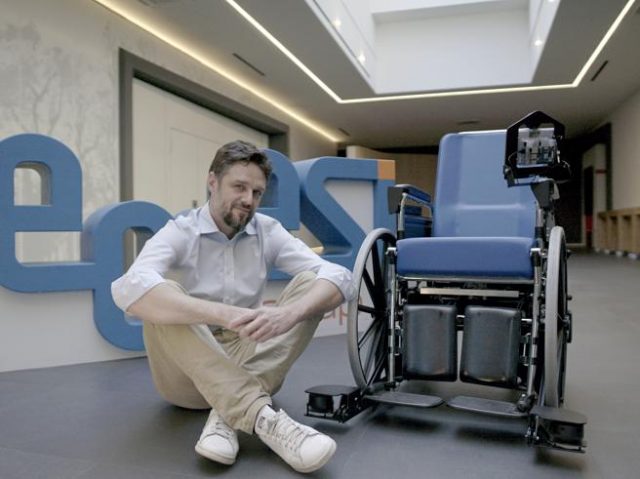 Focus
Autonomous driving technology in healthcare.
The new intelligent wheelchair will be able to move conventionally, autonomously and also by remote control. A.L.B.A. interacts with infrastructure and can move between building floors, communicating directly with lifts. The system can completely revolutionise the user's lifestyle.
Find out more about the ALBA-Robot
Connected
Connected mobility. the future is connected.
As we have seen, the transport world is experiencing a highly disruptive period with the integration of innovative solutions that allow manufacturers to offer the market vehicles equipped with artificial intelligence, connected to the network, able to move independently, complete with dedicated applications, V2V (Vehicle-to-Vehicle) communication enabled and more.
For several years, car manufacturers and public institutions have been looking for new ways to improve road safety and manage traffic flows more effectively.
Among the emerging sectors are cooperative intelligent transport systems (C-ITS), which allow vehicles to interact directly with each other and with the surrounding road infrastructure. These systems include vehicle-to-vehicle communication (V2V), vehicle-to-infrastructure communication (V2I), infrastructure-to-infrastructure communication (I2I) and communication between vehicles and pedestrians or cyclists (vehicle-to-everything (V2X).

The various sensors already available on many vehicles, such as radars, cameras and speedometers, detect information on distances from surrounding objects and their speeds, but sharing that information from vehicle to everything around it, allows critical situations to be identified, including traffic and accidents, so the car driver can take appropriate countermeasures to avoid accidents or join a smoother traffic flow.

At the same time, attention must be paid to possible "side effects", such as driver information overload or increased cybersecurity and privacy risks due to data sharing.
The future that started in the past
How the connected car has become part of the motorist's digital world.
1980
The first connected car in Formula 1. Provides vehicle data in the pits.
1996
Connected car with emergency call function. The vehicle can log an accident and automatically call the nearest emergency call centre.
1999
GPS arrives (in 2000 for civilian use): navigation is taken to a new level, it also becomes possible to track down stolen vehicles.
2001
First remote-controlled functions. Remote diagnostics
2004
SIM cards allow drivers to access news, information on weather conditions and other useful services.
2007
Mobile phones become smartphones with Steve Jobs' announcement
2008
Google introduces the Android operating system.
2009
First apps for the connected car.
2014
4G LTE and WIFI Hotspot arrive.
2019
KT and SK Telecom launch commercial 5G networks in South Korea
Connected mobility technologies
Interview with Gianluca Toscano, Technology Leader of Teoresi Group (December 2020)
Find out more about Teoresi's skills for connected vehicles
Shared
Shared mobility. Savings, efficiency and new ways of moving around
Shared-mobility is a transport strategy that allows users to access transport services as needed and includes a variety of transport methods including car sharing, bike sharing, peer-to-peer ride-sharing, ride-on services request, microtransit and other methods.
CAR SHARING
Short-term vehicle rental service. The provider offers the service through a network within a defined geographical area. Used via an app.

Station-based
Cars are parked in specific areas. With the Round Trip formula the vehicle must be returned to the base; with One Way, it can be left in another station.

Free-floating
Vehicles can be picked up on the road without rental stations.

Peer-to-peer
Rental service between individuals through a platform acting as an intermediary.

Geolocalizzato
System for limited geographical areas or specific communities.
RIDE SHARING
Mobility service based two or more people travelling the same route sharing a private vehicle. It is not strictly considered a business activity, with the intermediary platform receiving minimal revenue.
RIDE HAILING
A trip requested by one or more users in exchange for paying for the driver's activities, as well as for the availability of the vehicle. The service can be offered by a provider or private users.
e-HAILING
The service relates to bookings and payment methods for a ride hailing service and requires that they take place through a digital platform. In particular, the use of e-wallets or digital cards for payment is a given.
BIKE AND SCOOTER SHARING
Short term rental of bikes and motorbikes distributed over a geographical area without the need for staff. Service is guaranteed in exchange for a fee, usually made up of a fixed amount plus a variable fee linked to use duration.

Station-based
Vehicles are placed at stations with a fixing and unlocking system, with codes, magnetic cards or QR codes. They can be returned to stations other than the rental one.
Free Floating
Vehicles have a GPS system and a locking/ unlocking system. They can be taken and left freely through the use of an app.
Peer to peer
Works on the same principle as free floating but the service is provided by private individuals through a sharing platform.
MICRO-MOBILITY
Vehicles such as electric scooters, hoverboards and segways can be booked through dedicated apps and are equipped with GPS and QR codes for unlocking.
DRT
The DRT (Demand Responsive Transit) service allows private users to use vehicles usually considered public, such as buses, for personal mobility.
*Shared mobility also includes the public transport system and rental with driver.
Mobility as a service
The introduction of these services has an impact on many market sectors and also on local authorities who, in addition to signing agreements with suppliers and partners, commit to adapting public infrastructure to make them suitable. This all promotes Mobility-as-a-Service (MaaS), meaning the highest possible level of integration of public and private transport services through a unified gateway to build and manage journeys in a personalised way, which the user manages through a single account.

Micro-Mobility
Smart mobility is the starting point for cultural change towards crowd-mobility, where the use of transport is combined with the convenience of performance, safety and speed. With the aim of shortening travel times, these technologies combine comfort and functionality, especially in the area of maximum human-vehicle interaction.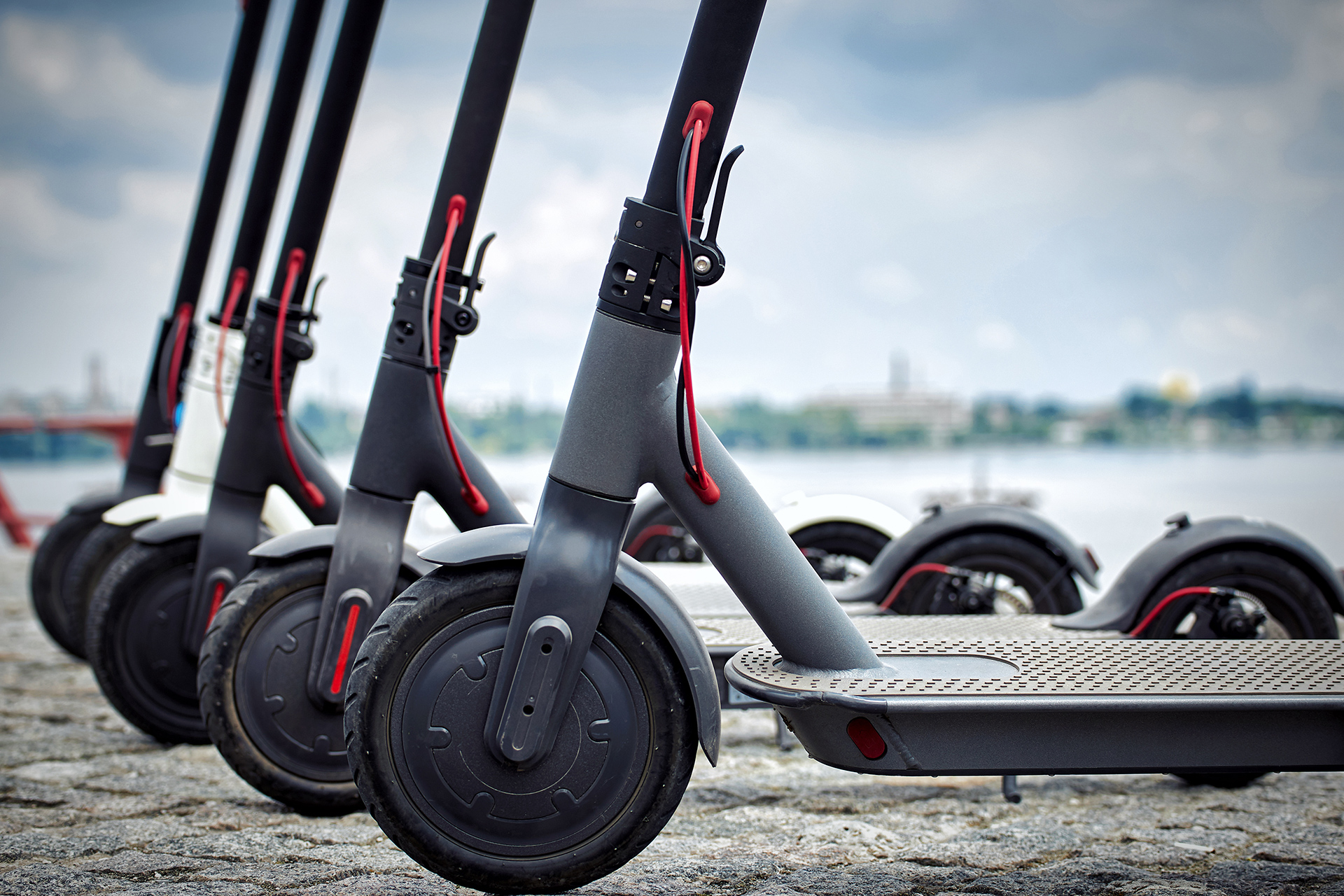 In recent years, first in the United States and then in Europe, two-wheeled micro-mobility, in the form of shared electric bicycles, scooters and motorcycles, has become ubiquitous. Its success comes from the ability to easily find nearby two-wheeled vehicles with a smartphone app and using it to unlock the vehicle, use it and pay for it. In addition, micro-mobility is useful in bridging the final gap with public transport, avoiding the congestion caused by four-wheeled vehicles and the problem of parking in large cities.
These are not new vehicles, but thanks to technology and service organisation they have become more effective, improving the quality of life, reducing road congestion and improving air quality, without the need for heavy investment in infrastructure.
Mobility-diversity
Georges Amar is a Professor of Design and Innovation at the Paris School of Mines, Director of Research and Development of RATP | Régie autonomome des transports parisiens and author of the book "Homo Mobilis" (FYP Editions). We are indebted to him for the idea of ​​mobility development closely linked to biodiversity and the anthropological changes in human behaviour.
Amar argues, above all, that the idea of ​​travel speed is linked to the capitalisation of time. A good transport system, designed to offer users intelligent services, is a system that saves time and allows you to "inhabit" mobility rather than suffer it. Being mobile means no longer having dead time travelling, but instead being in a space designed that lets you carry out other activities in the best possible way, sleeping, working, learning, reading or relaxing. Georges Amar introduces the walkable city idea, an ecosystem where the design of transport means is part of a city's usable and liveable space, to support and improve the complexity of the human mobility dimension.
In ten years time, will our workplaces really be places? We need to invent new words to describe our civilisation on the move.
Georges Amar
The walkable city is a city made up of mobile spaces, which effectively meet the needs of the user, today more than ever, to change travelling and transport methods several times during the same day. Places where work and side activities can be carried out with ease and without worry. The mobile city is made possible with the integration of different design aspects, from architecture to infrastructure, from transport means to interconnected systems. The mobile site meets users' needs ensuring maximum satisfaction, providing the best tools for exploration. Movement becomes a relationship, which implies an evolution of the concept of efficient mobility as simply moving from A to B. Today, moving is synonymous with knowledge. And knowledge implies a warm relationship between movement and place, as well as a way of connecting with others, to the country where you are. This includes electric mobility solutions for the public, such as smart connectivity features in urban spaces. In this scenario, transport multi-modality is the horizon to aim for.
Shared-mobility and COVID-19
Savings, efficiency and new ways to move around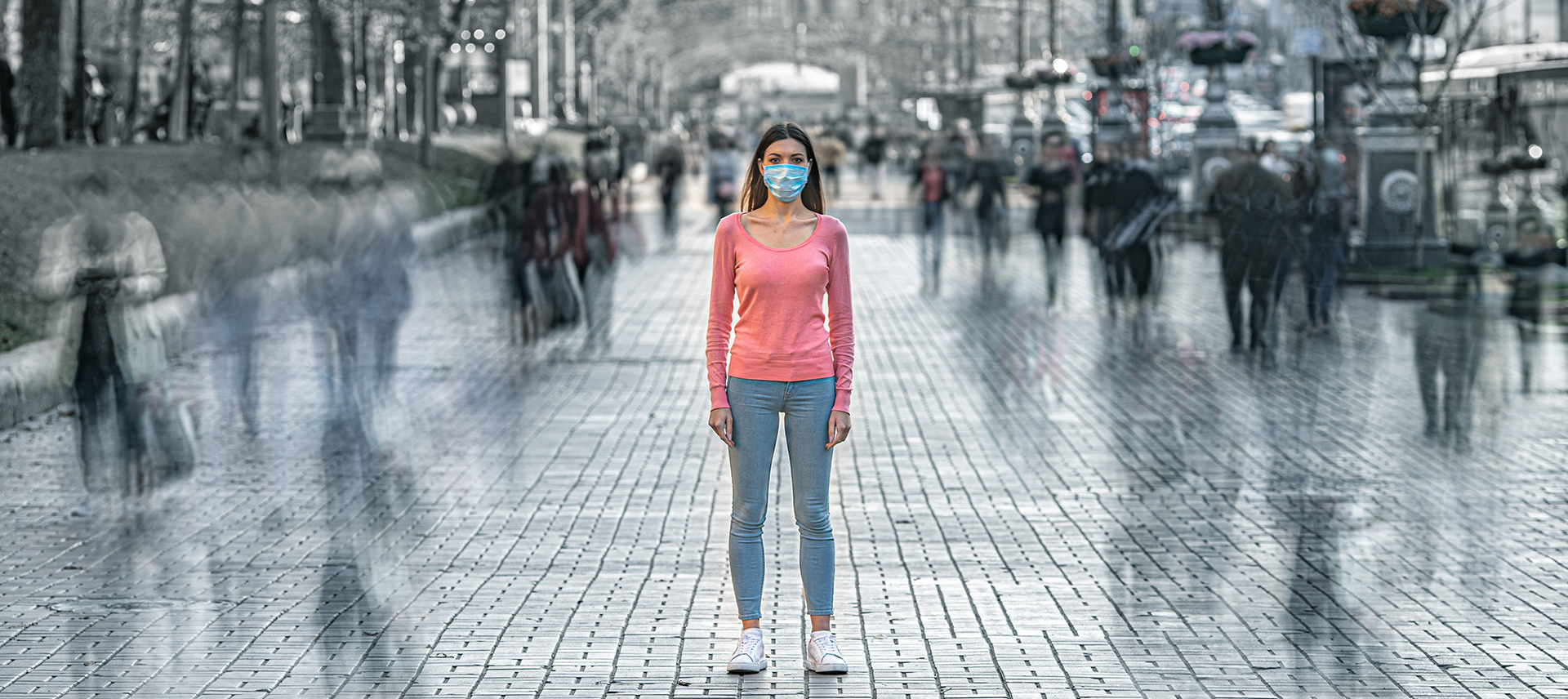 We have seen that Smart mobility is built on a series of foundations that can be summarised as sustainability, safety and efficiency.
It is clear that in the face of COVID-19's impact on society as a whole, these foundations are no longer sufficient and the issue of health must be added to them.
Indeed, the future of mobility cannot be understood and implemented without taking into account issues such as physical distancing and disinfection. These are particularly important issues when thinking about both public transport and the issue of shared mobility. Market operators will therefore need to reconsider their service offers, guaranteeing users the expected level of safety.
How does mobility change in the event of a pandemic?
This is a very important issue that unites institutions, research centres and companies in facing the post-pandemic emergency.
In some mobility sectors there have been serious issues of falling demand. If we think, for example, of car and ride sharing, the urgent and immediate downsizing of Uber and other specialised operators demonstrates how car and ride sharing poses significant issues in terms of infection exposure. This risks compromising efforts made so far to change the urban mobility model in favour of electric cars, which are so important in rebalancing the environmental quality of our cities.
At the same time, public bodies are working to identify mobility solutions which can limit risk and guarantee social distancing, also through a more strategic use of data, such as flow control and management. The main issues at the centre of the debate already seem to have been outlined, disinfecting transport means, road engineering based on safety and efficacy criteria, analysing and controlling functions by processing sensitive data.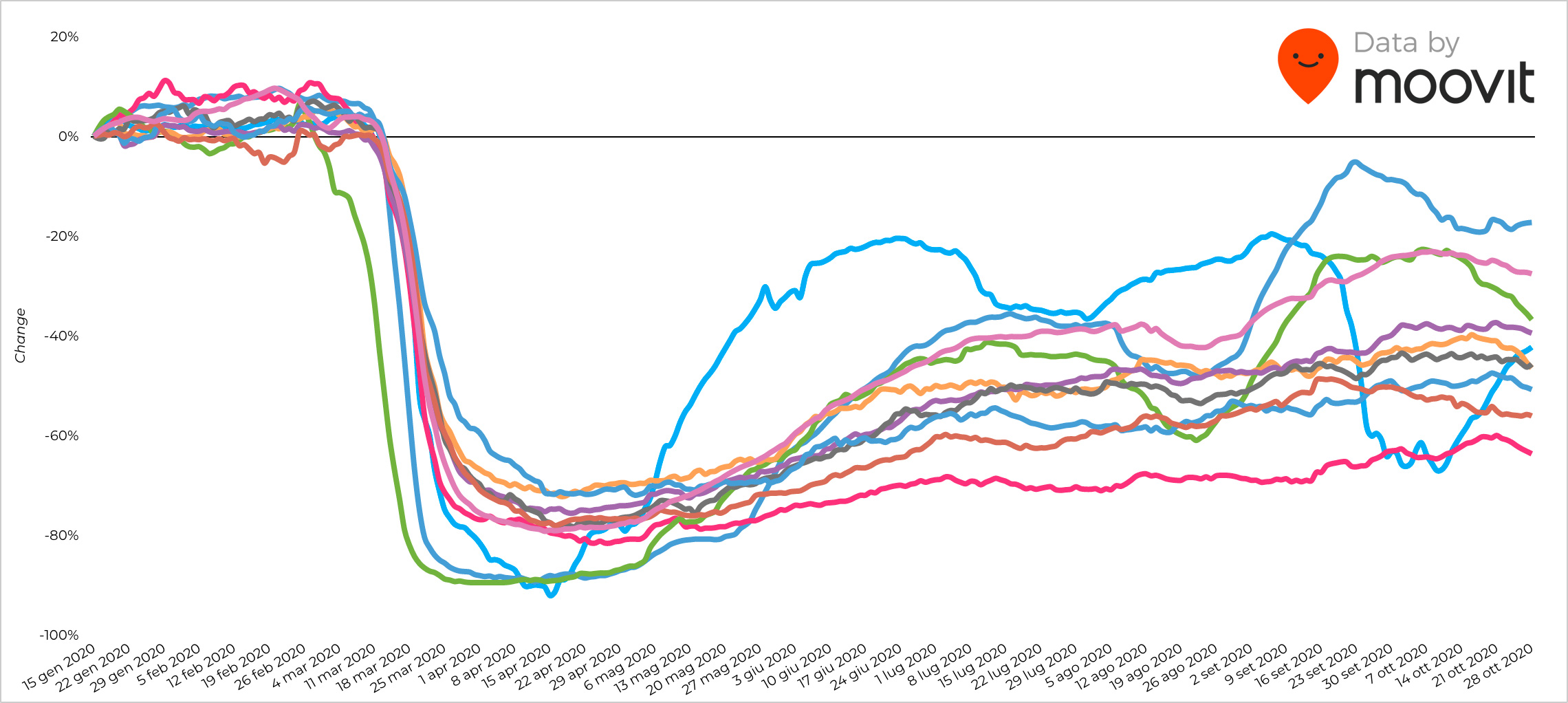 In Italy, the Ministry of Economic Development and the Agenzia per l'Italia Digitale – Agency for Digital Italy – have launched the first government tender for smart mobility as part of the Smarter Italy Programme, with the idea of ​​bringing together and supporting ideas and startups for cutting-edge solutions that exploit technologies to offer intelligent, useful and innovative services.
In the meantime, the pandemic world is experimenting with smart working, which has allowed many professionals to continue working and stay in contact with colleagues, suppliers and customers.
The emergency situation has given us the chance to see how our professional and private lifestyles may change in the coming years. Many professionals have been able to continue working remotely, repopulating inhabited centres outside the city and some commercial activities linked to large workplaces have already adapted their services, such as company canteens that deliver meals at home.
HYPERLOOP – The transport means of the future
Some theories in the mobility world have become the symbol of an upcoming cultural revolution.
One of the great prophets of this futuristic and human-centered transformation is undoubtedly Elon Musk, Tesla founder and currently considered one of the leading experts in the transformation of the civil transport industry. Musk, already a pioneer of the electric engine, is now working on ambitious projects. Hyperloop is without a doubt the most notable. This project looks at what progress will bring in the coming years and is one of the most fascinating and achievable, also because initial testing has already been carried out and a prototype is at an advanced stage.
Originally launched to build a line connecting Los Angeles and San Francisco, a journey of over 370 miles and taking almost 6 hours by car, that takes just 35 minutes by high-speed train, it has also started a debate on the vactrain strategy (vacuum train, a train in the absence of air). This choice requires special Magnetic Levitation transport lines to be built inside tunnels where a very low pressure environment is specially created to drive a vehicle powered by an electric engine.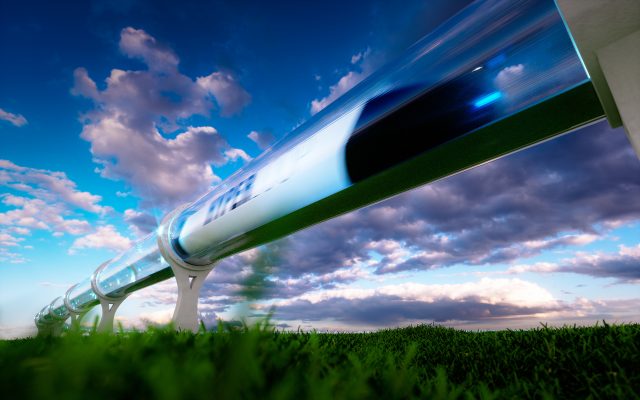 FOCUS
Hyperloop system in Italy
In July 2019 Bibop Gresta, already co-founder of HyperloopTT, announced its intention to present feasibility studies for transport in Italy, to demonstrate the technology's potential.
A supersonic speed of 760 mph has been put on the table, which would "link Milan and Bologna through a journey of just 9 minutes".
Thanks to a complex renewable energy system, the Italian Hyperloop system would be able to produce more energy than it consumed.
It goes without saying that, in keeping with the founder's vision, the transport capsules are designed for maximum comfort in terms of convenience and instruments, and would feature the most up-to-date technology.
Find out everything we know about rail vehicles.
Send a message, the right person will reply