21 June 2019
Teoresi Group presented Fiscal Year 2018
Corporate
---
Shaping the future together Roadshow – Future Vision and Y2018 at a glance
May 21st – June 4th 2019 – Turin, Modena, Naples, Rome and Milan
On the occasion of the 2018 financial results presentation, the Teoresi Group has decided to enrich the usual event with a deepening on great impact issues both for the Group and the different stakeholders of the company. "Shaping the future together" is the title chosen for this year's edition, an opportunity to discuss and strengthen the dialogue on future of activities, new projects, strategies and market opportunities.
Thanks to the presenting of Raffaella Polato, special correspondent of the Corriere della Sera, and Carlo Cinelli, Editor-in-Chief of The Economy of the Corriere della Sera, the debate was focused on the most interesting technological trends and on their impact on mobility, industry, environment and life sciences.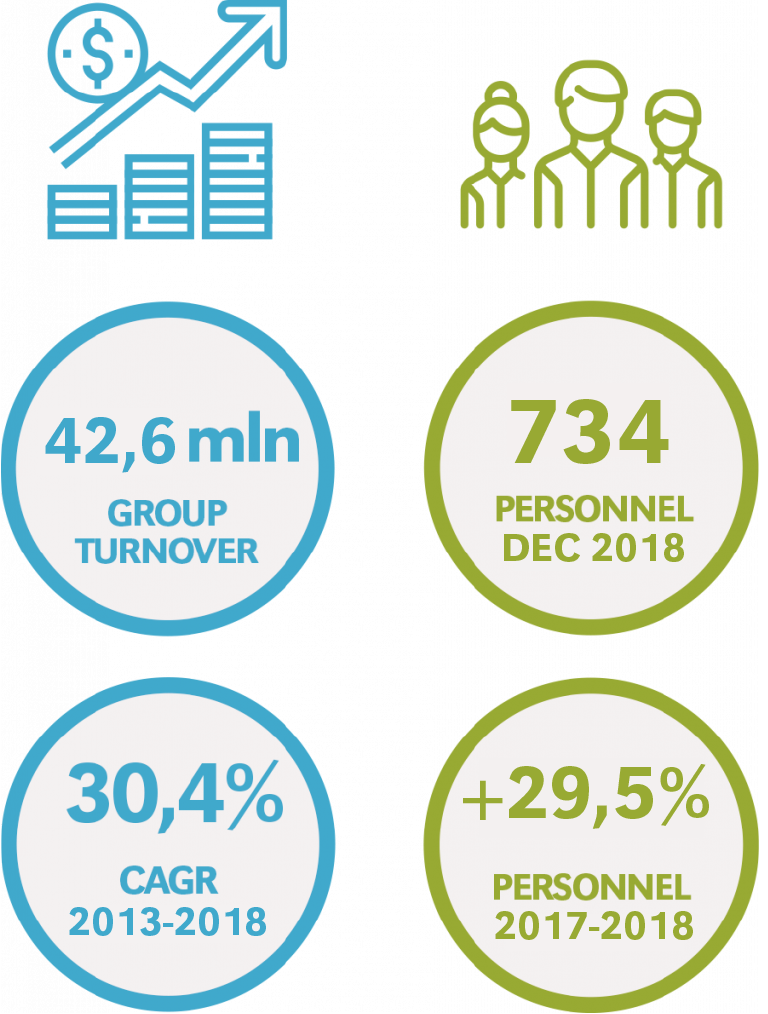 Valter Brasso, founder, President and CEO of Teoresi S.p.A. stated: "The Teoresi Group's ability to rise to the markets challenges lies in its continuous evolution and adaptability to changing, both in the constant search for new technological solutions and in knowing how to renew and increase its organization to anticipate, as far as possible, the growth of all group companies".
The growth trend of 2018 confirmed the solidity of the Group's strategic approach both in operational and financial management.
In 2018 the Teoresi Group achieved consolidated revenues of 42.6 million euros, recording an annual growth rate of +30.4% (CAGR 2013 – 2018) and an improvement on all the main economic-financial performance indicators.
The markets that saw the strongest growth during the past year were Industrial (+39.8%), followed by Railways (+39.1%) and Automotive (+30.8%).
With regard to personnel, in December 2018 the Group reached 734 employees.
The 2018 saw Teoresi engaged in the design and definition of the new 2019-2021 Industrial Strategic Plan which also provided a new Group Governance, presented during the event and aimed at fully supporting the development on the Italian market as well as on the other foreign companies.
The presentation of the Teoresi Group Delivery Centers is certainly among the most important facts: these structures were created to promptly respond to customers needs with the supply of innovative services.
"Delivery Centers are a real sign of the investments made to ensure maximum effectiveness and efficiency on the part of our engineering teams" said Mario Brossa, COO of the Group. "Developed following one of the Group's key principles, cross-fertilization, these structures will be able to satisfy even the most complex needs coming from the market."
Shaping the future together took place with an itinerant formula in the main Italian cities of reference for the Teoresi Group: Turin, Modena, Naples, Rome and Milan.
 
Teoresi Group – Press Office
Mail: media@teoresigroup.com
Web: www.teoresigroup.com